Freshly cooked and delivered to your Office!
Our Paella & Tapas Delivery Service is perfect for when you don't want a full on-site catering service but still want to cater for 50 to 150 people or more – easily and efficiently.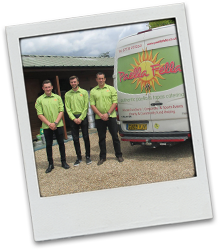 Reward your team with posh paella for lunch or a launch or training or a seminar, even.
You will get the best quality, tastiest food, freshly cooked and delivered and served on site, by our friendly, fully trained team.
All our food is made fresh from scratch to order – using only the best ingredients – we do not compromise on quality – for example, we always use only Spanish Extra Virgin Olive in our Paellas.
"Food was amazing, service was amazing" Dalton Strategic Partnership LLP, London 
Here are two exciting food options for you with pricing to suit most taste and budgets
Paella Only – Example Menu
Pricing from £9.50 – £20 per person.
You have a choice of one, two, three or more paella
Everything we create is made from scratch using only the finest ingredients. We use authentic paella rice, chorizo and paella spices sourced from Spain.
Chicken & Chorizo
Chicken Thigh Fillet & Smoky Chorizo
Chicken only
Chicken Thigh or on the bone
Seafood
King/Tiger Prawn, Squid & Cod Fillet (Mussels optional)
Mixte Paella
Fabulous mix of Chicken Thigh Fillet, King or Tiger Prawn, Squid Rings, Cod Fillet & Mussels (optional)
Vegetarian
Asparagus, Chestnut Mushroom, Red Pepper & Chickpea
Optional Extras include…
Bread & Olives & a simple Mediterranean style salad
Kosher & Halal available on all options if required
Vegetarian, Vegan and Gluten Free options available
Canape Tapas – Example Menu
Pricing from £11.50 – £24 per person.
A selection of cold canapé tapas (ambient)
Sweet Potato & Sunblushed Tomato Tortilla
Chicken Pinchos Kebabs
Chicken & Chorizo Paella – served in mini palm leaf bowls
Verdura Paella – served in mini palm leaf bowls
Picastostes – little toasted garlic breads that come with 3 different toppings
– Goats Cheese & Olives
– Sundried Tomato & Quails Egg
– Mayonnaise, Asparagus & Serrano Ham
Salt Cod Fritters – served with a Lime Mayonnaise
Pea & Leak Empanadas
Asparagus wrapped in Serrano Ham
Lamb Cigars – minced Lamb marinated in Honey, Rosemary & Mustard wrapped in a filo pastry roll
Some hot options may be included in your menu depending on your own facilities available onsite.
Canapé Tapas may include Paella as a Tapas portion if desired
Pricing (per head) Excluding VAT & E&OE
| Guest Numbers | Paella Package | Canape Package |
| --- | --- | --- |
| 50 | £19.50 | £24 |
| 75 | £15 | £18 |
| 100 | £13 | £15 |
| 125 | £11 | £12 |
| 150+ | £9.50 | £11.50 |
Pricing is based on Deliveries into Central London and surrounding areas eg Congestion Charge. Parking fees may apply
Do you like a deal? We do!
We understand you have your budget to consider and so there may be some room for price movement based on things such as menu choice, ingredient composition, exact travel distance/times and service times. Please call us to discuss.
We will be upfront and tell you if we cannot meet your budget expectations.
Included in the service…
Choice of freshly prepared Paellas or Tapas made and delivered to order.
Fully laden paellas made with freshly prepared whole ingredients – including authentic paella rice and paella seasoning.
Paella Fella uniformed friendly staff to serve and clear away.
Palm leaf or paper bowls with metal or wooden forks – (all biodegradable).
Removal and disposal of all related waste.
I wanted to drop you a note to say what an exceptional service we had on Friday from your staff! The food was amazing and they were so clean and efficient and polite. Truly great people who you should be so proud of and I'll definitely use you again in the future!!!
Emma Bannister, Rackspace Ltd, Middlesex (145 Guests)
Paella Fella catered for an in-office event last night, food was excellent and service was outstanding! We will be using them again for future events! Thank you Olivia and Claire!
Laura Brown, Goodstuff Ltd, London W1 (60 Guests)
Thanks for all your help with our order and to your 2 colleagues, who were here with us for the event, they were really friendly and helpful and the food was so delicious.
Bovill Ltd, London SE1 (50 Guests)
Wow -- amazing paellas (even verified by a native Spaniard!) at our party yesterday. Paella Fella are extremely professional and friendly from our initial contact right through to attending and serving on the day. Exceeded expectations - highly recommended 5*
Sally Hooten, Leaving Party in Brighton (70 Guests)
---
Contact the team today to discuss your requirements:
0208 088 0400