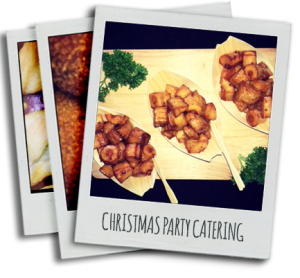 Our Christmas Party Catering menu is a fusion twist on a mix of Spanish and English Festive Fayre.
There is something to satisfy everyone's tastebuds and bring some Iberian sun to your Christmas Party.
There are some choices to be made with the Canapé Tapas, Paellas and Desserts. We suggest that you choose maybe three to four tapas from a total of six savoury canapes.
Our desserts come as a trio of mini (canapé style) desserts for each person and you have a choice of five options.
With regards to the paellas, you may choose to have one, two or all three.
Combinations and Decisions!?! – the choice is yours – but please do call us if you want any advice or help at all…
Festive Canapé Tapas
Christmas Croquetas
Turkey & Stuffing served with a onion & green apple chutney
Spiced Parsnip Chips served with a honey & mustard glaze
Merguez Sausage Rolls – spicy Spanish sausage
Diablos a Caballo
Devils on Horseback Spanish Style… Dates wrapped in Serrano Ham
Lamb Cigars
Honey, rosemary & garlic lamb in little filo pastry rolls
Rioja Albondigas
Mini meatballs with Rioja red wine sauce – served in a little bamboo cups
Paella Menu
Tres Pajaro – 3 Bird Paella
Delicious combination of Chicken, Turkey and Duck thigh fillet made with a sage stock and Sage & Onion Christmas Dumplings
Verdura Navideña
Sprouts sautéed in garlic, with chestnuts and chunky red peppers and Sage & Onion Christmas Dumplings
Merry Marisco
Seafood paella made with Smoked Salmon Fillet, Tiger or King Prawns and Calamari Squid, Mussels (optional)
Festive Puddings
Festive Brownies
Homemade Spiced Rum Chocolate Brownies with tangy Cranberries pieces

Gingerbread Empanadas
With a Spiced Pear filling & Chocolate dip
Seville Orange Marmalade Jaffa Pots
Cini Bun Mini Pots
Sticky caramel apple with vanilla cream & mini cinnamon bun
Winter Glitter Jellies
Sharp but sweet jelly made from cranberry & orange juice with berries & a sparkly touch
As standard, our service is premium quality hassle free catering – we do all the hard work so you can relax and enjoy your party.
All Options Include:
A choice of freshly prepared Paellas – cooked and served on site (or delivered!)
Fully laden paellas made with freshly prepared whole ingredients – including authentic paella rice and paella seasoning
Served in palm leaf bowls with metal or wooden forks
All service staff, kitchen set up, cooking, serving and clearing and travel costs
Removal and disposal of all related waste
---
Contact the team today to discuss your requirements: