Meet The Team
Our team is an experienced, professional and friendly bunch.
They love helping our clients enjoy their events without having to worry about a thing!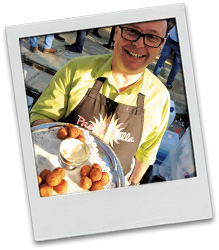 Nick is the Managing Director and founder of Paella Fella.
He has a passion for authentic Spanish cooking and is dedicated to ensuring all Paella Fella events bring a bit of Spanish sunshine to his clients!
Favourite Paella Fella dish…
Mixta – you cannot beat the way the flavour of the chicken and seafood meld together – simply delish!
Olivia Nicholas – Sales & Marketing Executive
Favourite Paella Fella dish…
Tough one! Mushroom & Blue Cheese Croqs! Or….Picatostes with Asparagus & Serrano Ham.
Ashley Aitken – Unit Service Operations
Favourite Paella Fella dish…
'Erm… definitely the Pollo & Chorizo Paella… without a doubt'
Katie Elizabeth Butt – Kitchen Supervisor
Favourite Paella Fella dish…
'My new favourite is the lamb cigars'