Halloween Party Catering
Paella Fella is the pick of catering companies for Halloween Parties
Paella Fella is the pick of the premier catering companies for your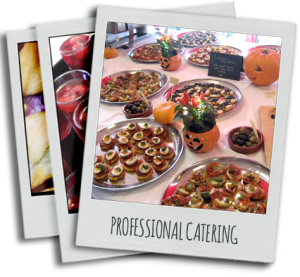 Halloween party celebration.
Spookily, we know you love to have a great time with the kids at Halloween, but we also know you really love inviting friends and family round to party too!!
Especially if it gives you the opportunity to dress up in Ghoulish outfits to frighten the neighbours!! So, whilst you may be considering catering for your fright night with your friends and family, why don't you take away all the hard work and hassle out of the preparation and leave it to Paella Fella's team to do it all for you?
As haunting as that may sound, our team will ensure you are not feeling like Frankenstein, as we will work out all the nuts and bolts in the kitchen, leaving you to enjoy your Halloween party with all your guests. If you want a memorable gathering that's a little bit different, check out the amazing Paella Fella range of Halloween party packages.
---
Contact the team today to discuss your Halloween Party Catering:
Our Halloween party catering packages
Our Halloween packages are dripping with wondrous curiosities, blending Paella Fella's depth of experience and knowledge of Spanish cuisine to provide the perfect culinary experience for your fellow Halloween spooks.
From our premium Halloween party package, which includes our superb "Vampaella", our incredible tapas selections including Mummified Chorizo, Creepy Croquetas and Petrified Pinchos, artisan breads and delicious desserts such as Tombstone Brownies and Blood Jellies, through to our Bronze package, which provides all the essentials for a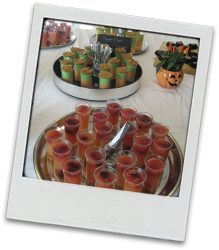 Halloween party, you can choose the food, drink and catering style to fit your Spooktacular party. Let us take the stress out of your Halloween party catering and give your guests a Halloween celebration that frightens the life out of them! (we're joking!).
Paella Fella is an established professional party catering company, bringing authentic Spanish food to all kinds of events from landmark birthday parties and weddings to corporate functions. When making your selection from companies catering for a Halloween party, make sure Paella Fella is top of your list.
Example Halloween Package Menu
Nightmarish Nibbles

Creepy Croquettas / Petrified Pinchos / Witches Fingers
Our 'Vampaellas'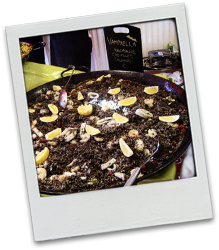 Vampaella – Ghoulish Black Rice Seafood or Chicken with a Garlic Maggot Mayo.
Phantasmal Paella – Chicken Paella made with Smoked Spanish Chorizo Sausage red peppers, green beans and paella rice.
Blood Verdura – Our Fiendish vegetable paella made with shocking Red Beetroot, red peppers, chickpeas and pumpkin.
'Trick or Trio' Dessert Selection


Slime Lemon Possets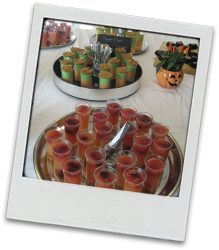 Vampire Kiss Jellies
Graveyard Pots
Paella Fella Halloween Packages – Rough Price Guidelines
Please note this price guide is based on an average mileage and distance. – it will need to be refined for your chosen venue
Pricing shown is totalled based on the volumes given excluding VAT. When pricing your Halloween Party catering we typically work on a price per head basis.
Please Also Note:
Pricing may vary based on customer choice of different types of Canape Tapas, Paellas and Dessert selection
Prices shown are based around estimated timings, and may vary for individual schedules
All prices are Excluding VAT
Boo! (Bronze) Package – Simply Paella
40 Guests from £1,240
60 Guests from £1,380
80 Guests from £1,520
or with Olives/Breads and Salad

40 Guests from £1,350
60 Guests from £1,500
80 Guests from £1,680
Spider! (Silver) Package – Two Courses, Canapes & Paellas
With Olives/Breads & salad

40 Guests from £1,520
60 Guests from £1,740
80 Guests from £2,320
Ghoul! (Gold) Package – Three Courses and Desserts (3 mini desserts per person)

40 Guests: £1,520 + £3.00 pp
60 Guests: £1,740 + £3.00 pp
80 Guests: £2,320 + £3.00 pp
The party was really excellent thank you and as ever the food was wonderful - so please say thanks ever so much to Bertie and the boys. So many people commented about how delicious the paellas tasted and the friendly service too....I'm in no doubt that we will be calling upon you again soon ! Many thanks again to you and the team,

Kate & Andrew Cawker – 40th Birthday – Kent, 115 guests – 10th September 2016

"Just wanted to say a huge thank you to Paella Fella for making my twins 21st Birthday Party so successful . The staff were professional, reliable and friendly , the tapas and paella absolutely delicious , so much so that the left overs all got eaten on the night! Perfect in every way, we would definitely use you again and will recommend to all "

Michelle Sneade - Twins 21st Birthday - London, 65 Guests - 20th July 2019

The party was great fun and the food was a huge success, I had lots of comments on how delicious it was. Debbie who came and worked on the night could not have been nicer. It was the first time I ve used this sort of catering for a party and would definitely do it again. Many thanks for all your help.

Alison Speakman, Essex - Summer Party 50 guests - 27th August 2016

Just wanted to say thank you so much for Paella on sat night - it was fantastic it really was. Most enjoyable so please pass our thanks onto Nick and the team etc.

Paella Delivery, Forest Row - 10 guests - Saturday 27th October 2018 - David Worby

Thank you to all your team, for providing the perfect lunch for our Anniversary. It was unusual, our Guests were very complementary and I am sure we all will remember the  occasion for some years to come! Thank you also for all the clearing & tidying up you and your team did especially washing all the glasses definitely beyond the call of duty! Well done, you and your team definitely made the day memorable  for us and our Guests. Thank you

Richard & Julia Stubbs - 40th Wedding Anniversary , 70 guests - Coolham, West Sussex - 24th July 2016

Wow -- amazing paellas (even verified by a native Spaniard!) at our party yesterday. Paella Fella are extremely professional and friendly from our initial contact right through to attending and serving on the day. Exceeded expectations - highly recommended 5*

Sally Hooten - Paella Delivery, Brighton - 70 guests - 24th September 2016
Example Packages & Descriptions Typically packages include:
Choice of up to 3 Paellas in each case
Choice of 4 different types of Canape Tapas and 3 types of desserts (Trio)
All packages include Palm Leaf Plates / Wooden Forks – Crockery / metal cutlery available on request
Packages include waited canapes /starter, buffet paella & desserts, pricing may vary on different service styles
Ghoul (Gold):
Three Courses – typically Canapes or Tapas Starter followed by Paella &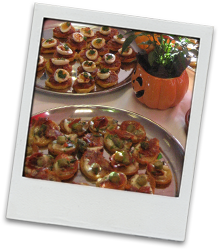 Desserts
Spider (Silver):
Two Courses – typically courses may be Canapes with Paella, or Paellas followed by Desserts.
Boo! (Bronze):
One Course – Paella as a main course, or as evening food
Canapes – served to you & your guests on arrival. Usually served alongside your reception drink
Paella Course – Usually served as a main with Salad, lemon & black pepper – Best served Buffet style so your guests can see the big pans and choose which type they would like.
Desserts – All our desserts are miniature! These can be brought to the tables as a trio, sharing boards, or laid out on a separate dessert table for your guests to enjoy the whole evening.
Please note: The packages are flexible and can be mixed up to suit your taste & budget.
Halloween party catering companies – Paella Fella's Tantalising Pre – Halloween Party Taster
We offer taster sessions where you can sample our fantastic paella, superb tapas range and delightful desserts so you can decide upon your Halloween party menu with total confidence. Our taster sessions start at £60 depending on your menu selection and is the perfect opportunity to discuss and share your Halloween party catering plans with us in detail.
Catering Companies Catering for Halloween Parties and Halloween functions
At Paella Fella, we are the major caterer for all sizes of Halloween parties and corporate Halloween events and able to provide delicious paella, incredible tapas, desserts and drinks for up to 300+ people. The more the merrier!
Please discuss your requirements with our Events Team and we can advise how to assist you cater for your guests at your Halloween party.
Paella & Tapas Halloween Catering Companies
If you are looking for a professional, but fun, Paella and Tapas catering service for your Halloween party, a service that offers something that's a little bit different, then do contact Paella Fella today!
We would love to work with you to create the best possible Halloween party or corporate Halloween event for you. Bespoke, high end, stress-free Paella & Tapas catering with more than a touch of Spanish flair!
---
Contact the team today to discuss your Halloween Party Catering:
Popular searches: spanish food, spanish takeaway, paella delivery, tapas delivery, Halloween Party Caterers, Sussex, Surrey, Essex, Kent, Hampshire, London, Paella Halloween Party Catering, Paella at Halloween, Tapas Halloween Catering, Paella Halloween Catering, Halloween Party Food Catering, Corporate Halloween Catering, Halloween Wedding Catering, Halloween Catering Companies, Halloween Catering, Halloween Party Catering