Canape Tapas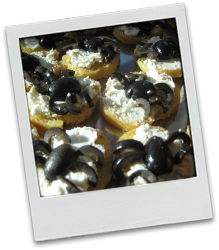 Black Rice Arroz Bolitas
Goats Cheese Picatostes with little Olive Spiders
Asparagus Finger wrapped in Serrano Ham
Paella Menu
Arroz Negra (Black Rice)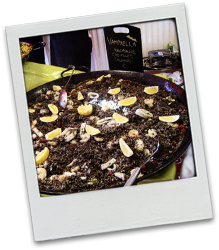 Deliciously rich Seafood paella made with tiger or king prawns, calamari, red pepper, onions and squid ink to give the rice a characteristic black colour and a superb flavour
Puddings
Slime Lemon Posset with a slime Jam
RIP Jaffa Pots with Tomb Stones
Raspberry & White Chocolate Blondies with a blood Drizzle
---
Contact the team today to discuss your Halloween Party Catering:
Our Halloween party catering packages
Our Halloween packages are dripping with wondrous curiosities, blending Paella Fella's depth of experience and knowledge of Spanish cuisine to provide the perfect culinary experience for your fellow Halloween spooks.
From our premium Halloween party package, which includes our superb "Vampaella", our incredible tapas selections including Mummified Chorizo, Creepy Croquetas and Petrified Pinchos, artisan breads and delicious desserts such as Tombstone Brownies and Blood Jellies, through to our Bronze package, which provides all the essentials for a Halloween party, you can choose the food, drink and catering style to fit your Spooktacular party.  Let us take the stress out of your Halloween party catering and give your guests a Halloween celebration that frightens the life out of them! (we're joking!).
Paella Fella is an established professional party catering company, bringing authentic Spanish food to all kinds of events from landmark birthday parties and weddings to corporate functions. When making your selection from companies catering for a Halloween party, make sure Paella Fella is top of your list.
Hi it was a huge success and our guests were very complimentary about the food. The team were professional and friendly and cleared up beautifully. I would definitely recommend your service and use you guys another time.

Jan Grace 50th Birthday Party - London, 150 guests - 9th July 2016

The paellas went down a treat! Many thanks.

Alison Fulton - BI Worldwide, staff lunch- Newport Pagnell - 200 guests - Friday 15th July

The guys were fantastic and everything went seamlessly and the paella was just amazing - both the chicken and chorizo and the vegan one!  My husband has guarded the remaining vegan paella - which is hidden at the back of the fridge.   The party went on until the small hours finishing with the stragglers demolishing the left over paella!  It was a big hit! Kind Regards, Liz

Can't thank you guys enough for the delicious food and fab fellas at our house warming/my birthday party in Brentwood on Saturday, You guys made the whole thing so easy, from the initial enquiry right through to clearing up at the end – so so so so fab!

Hannah De Gruchy, Brentwood

Please could you pass on my thanks to your team who catered for our party on Saturday. They did an amazing job! The paellas were delicious, as were all the canapés and everything was cooked and served with a smile. All our guests were extremely impressed, and your team made the party a great success. A big thank you to all 3 of them.

Jill Ward - Husband's 50th Birthday - 65 Guests - Goudhurst 18th June 2016

Thank you for lovely food and charming service. No one went hungry!! Hope to see you again.

Deborah Murphy - Hornchurch Essex -23rd April 2016 - 30 Guests
Halloween party catering companies – Paella Fella's Tantalising Pre – Halloween Party Taster
We offer taster sessions where you can sample our fantastic paella, superb tapas range and delightful desserts so you can decide upon your Halloween party menu with total confidence. Our taster sessions start at £60 depending on your menu selection and is the perfect opportunity to discuss and share your Halloween party catering plans with us in detail.
Catering Companies Catering for Halloween Parties and Halloween functions
At Paella Fella, we are the major caterer for all sizes of Halloween parties and corporate Halloween events and able to provide delicious paella, incredible tapas, desserts and drinks for up to 300+ people. The more the merrier!
Please discuss your requirements with our Events Team and we can advise how to assist you cater for your guests at your Halloween party.
Paella & Tapas Halloween Catering Companies
If you are looking for a professional, but fun, Paella and Tapas catering service for your Halloween party, a service that offers something that's a little bit different, then do contact Paella Fella today!
We would love to work with you to create the best possible Halloween party or corporate Halloween event for you. Bespoke, high end, stress-free Paella & Tapas catering with more than a touch of Spanish flair!
---
Contact the team today to discuss your Halloween Party Catering:
Popular searches: spanish food, spanish takeaway, paella delivery, tapas delivery, Halloween Party Caterers, Paella Halloween Party Catering, Paella at Halloween, Tapas Halloween Catering, Paella Halloween Catering, Halloween Party Food Catering, Corporate Halloween Catering, Halloween Wedding Catering, Halloween Catering Companies, Halloween Catering