Canape Tapas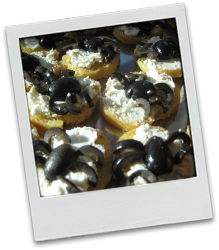 Black Rice Arroz Bolitas
Goats Cheese Picatostes with little Olive Spiders
Asparagus Finger wrapped in Serrano Ham
Paella Menu
Arroz Negra (Black Rice)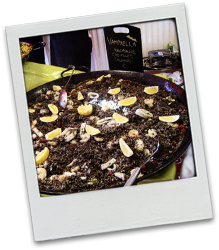 Deliciously rich Seafood paella made with tiger or king prawns, calamari, red pepper, onions and squid ink to give the rice a characteristic black colour and a superb flavour
Puddings
Slime Lemon Posset with a slime Jam
RIP Jaffa Pots with Tomb Stones
Raspberry & White Chocolate Blondies with a blood Drizzle
---
Contact the team today to discuss your Halloween Party Catering:
Our Halloween party catering packages
Our Halloween packages are dripping with wondrous curiosities, blending Paella Fella's depth of experience and knowledge of Spanish cuisine to provide the perfect culinary experience for your fellow Halloween spooks.
From our premium Halloween party package, which includes our superb "Vampaella", our incredible tapas selections including Mummified Chorizo, Creepy Croquetas and Petrified Pinchos, artisan breads and delicious desserts such as Tombstone Brownies and Blood Jellies, through to our Bronze package, which provides all the essentials for a Halloween party, you can choose the food, drink and catering style to fit your Spooktacular party.  Let us take the stress out of your Halloween party catering and give your guests a Halloween celebration that frightens the life out of them! (we're joking!).
Paella Fella is an established professional party catering company, bringing authentic Spanish food to all kinds of events from landmark birthday parties and weddings to corporate functions. When making your selection from companies catering for a Halloween party, make sure Paella Fella is top of your list.
Thank you for lovely food and charming service. No one went hungry!! Hope to see you again.

Deborah Murphy - Hornchurch Essex -23rd April 2016 - 30 Guests

What can I say - fab fab fab - the food was absolutely amazing and what two wonderful guys we had doing the cooking, serving and clearing up. I cannot praise paella fella more - everyone and I mean everyone loved the food and also a lot of them commented on the palm leaves that it is served on - a lovely touch . Thank you so so much for making my sons party a fantastic success . I also have to mention - there was not a plate or fork left in sight - the guys cleared everything up beautifully . A huge thank you !!!    Kindest regards , A very happy Sara !

Sara Robertson's son's 21st - 30th July 2016 - Surrey - 70 guests

It was clear in my mind that the only company to cater for our event was Paella Fella as we have watched the company grow over the years and we have both supported each other during this time. So it had to be Paella Fella and no one else!! Nick was a godsend to the occasion, everything was made so easy for us, from the setting up to the serving of food and clearing away. Nick was very popular with our guests and I have received compliments from the Town Mayor, the Chairman of the District Council and the Chairman of the County Council. All guests loved the look of the set up outside and this added so much fun to the occasion. The food was delicious and my guests were going back for more portions!

Liz Bennett - 100 guests - Meridian FM East Grinstead 10th Anniversary Party- 24th June 2016

It was a lovely day and thankfully, despite setting up in the pouring rain, the weather held out for the afternoon. Your team were absolute troupers and the food was lovely, thank you so much. Please pass on my thanks to the guys who attended as well as they set up in horrendous conditions and were still smiling! 🙂 Dad loved the day and was thoroughly surprised so a great success all round.

Claire Umney, Herstmonceux

Thank you for a great spread.  A number of the guests commented on how much they had enjoyed the food. I agree - it was good, so thank you to all involved.  Mind you, it was to be expected, having sampled Paella Fella on a previous occasion so you were The Choice for Moira's 80th.  Who else?! Actually, I came upon the name of Paella Fella at a funeral of a dear friend Elizabeth Holland in Otford on 19th October last year.  We were all so impressed with the lovely food at Elizabeth's wake; so when Moira and I were  discussing what to do for her 80th, she immediately said that she would like to have Paella Fella for the catering.  And so it was.  It also happened to be my 86th last Saturday, so I got a benefit from it too.

Ian Craig guest at Moira Sharpe's 80th - Sheerness, 100 guests - 1st April 2017

Debbie Bertie and Russell were a delight. Almost like family. Really excellent paella and it was something we dont get "out here in the wilderness" so much appreciated by all the party people. Very smooth and professional throughout. Thank you!

John Tweedale - Birthday Party - Cambridge, 95 guests - 18th February 2017
Halloween party catering companies – Paella Fella's Tantalising Pre – Halloween Party Taster
We offer taster sessions where you can sample our fantastic paella, superb tapas range and delightful desserts so you can decide upon your Halloween party menu with total confidence. Our taster sessions start at £60 depending on your menu selection and is the perfect opportunity to discuss and share your Halloween party catering plans with us in detail.
Catering Companies Catering for Halloween Parties and Halloween functions
At Paella Fella, we are the major caterer for all sizes of Halloween parties and corporate Halloween events and able to provide delicious paella, incredible tapas, desserts and drinks for up to 300+ people. The more the merrier!
Please discuss your requirements with our Events Team and we can advise how to assist you cater for your guests at your Halloween party.
Paella & Tapas Halloween Catering Companies
If you are looking for a professional, but fun, Paella and Tapas catering service for your Halloween party, a service that offers something that's a little bit different, then do contact Paella Fella today!
We would love to work with you to create the best possible Halloween party or corporate Halloween event for you. Bespoke, high end, stress-free Paella & Tapas catering with more than a touch of Spanish flair!
---
Contact the team today to discuss your Halloween Party Catering:
Popular searches: spanish food, spanish takeaway, paella delivery, tapas delivery, Halloween Party Caterers, Paella Halloween Party Catering, Paella at Halloween, Tapas Halloween Catering, Paella Halloween Catering, Halloween Party Food Catering, Corporate Halloween Catering, Halloween Wedding Catering, Halloween Catering Companies, Halloween Catering