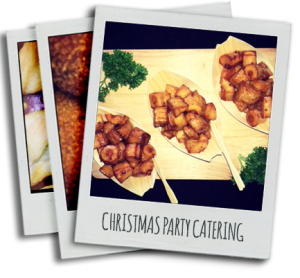 Paella Fella is the pick of the premier catering companies for your Christmas party catering.
Whether you are throwing a pre-Christmas bash for your friends and want to take the hassle out of the preparation work, or you are organising your company's Christmas party and want to put on a memorable celebration that's a little bit different, check out the amazing Paella Fella range of Christmas party packages.
Our Christmas packages are something to behold, blending Paella Fella's depth of experience and knowledge of Spanish cuisine with a festive twist on traditional Christmas fayre.
Our Christmas party catering packages
From our premium "Santa" package, which includes our Christmas paella, a delicious combination of Chicken, Turkey and Duck thigh fillet made with a sage stock and sage and onion Christmas dumplings, our incredible Christmas themed tapas selections, artisan breads and delicious desserts including Gingerbread Empanadas with a Spiced Pear filling & Chocolate dip, through to our "Elves" package, which provides all the essentials for a Christmas party, you can choose the food, drink and catering style to fit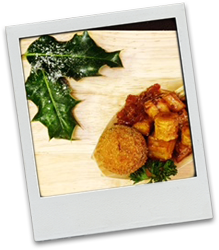 your Christmas celebration.
Let us take the stress out of your Christmas party catering and give your guests or colleagues a Christmas party that excels.
Paella Fella is an established professional party catering company, bringing authentic Spanish food to all kinds of events from landmark birthday parties and weddings to corporate functions.
When making your selection from companies catering for Christmas parties, make sure Paella Fella is top of your list.
Your service and food at Nick's Spanish 'After Party' was delicious and just what he would have wanted. Many people commented that it was the perfect send off for him and how much they enjoyed the food. I picked your company because you were the only one who actually rang me from my query and took the time to find out exactly what I wanted. On the day the service was impeccable, I will definitely recommend you to friends. The only things I had to wash up were the tea cups, perfect Thank you so much.

Caroline Holdstock - Memorial Service - Tunbridge Wells - 150 Guests

Our party was a great success. Thanks to your friendly, efficient and hard working team, the food was delicious, the drinks kept coming and our guests really enjoyed themselves. I wouldn't hesitate to use Paella Fella again, and a number of friends have taken your details. Thank you again

Jenny and Graham Devine - Housewarming & 60th Birthday - Farnham, 80 guests - 27th July 2019

We were going to ring you today to say that the party was a great success not least due to the contingent from Paella fella they were both super courteous and helpful a credit to your company. The food was delicious and that coming from my mother who spends her summers in Spain! Thank you so much we will surely recommend you whenever we can.

Jenny & Miles Cavey - 80th Birthday, 35 guests - London - 18th September 2016

Saturday was fabulous. The Paella Fella Team provided wonderful food. They slotted in with our schedule and were efficient and perfectly executed a great feast for the Cawkers. Puddings were excellent ~ sized perfectly. Mr Mrs Cawker were delighted with the service. Please warmly thank the team you provided.

Jane Waldegrave - 40th birthday, Kent - 115 guests - 10th September 2016

The party went very well considering the gale force winds and showers. Your team were stars.  The food was great and everyone was well fed.  People were commenting that it was the best paella they had ever eaten and even better than what they had experienced in Spain.

Roy Russell - Wife's 50th Birthday, 50 guests - Kent - 20th August 2016

Oh my ! The food was amazing - all my friends have said how fabulous it all was . The vegetarians, the pescatarians and the meat eaters were all catered for (plus the one who was allergic to rice!) Canapes were delicious  

We are hugely grateful as the food really made the party. 

Very impressed with the set up and how lovely the chefs were

We partied like it was 1999 given that the law changed today for the gatherings

Jo Prince - Wedding Celebration - Reigate - 12th September 2020
Christmas party catering companies – Paella Fella's Tantalising Pre – Christmas Party Taster
We offer taster sessions where you can sample our fantastic paella, superb tapas range and delightful desserts so you can decide upon your Christmas party menu with total confidence. Our taster sessions start at £60 depending on your menu selection and is the perfect opportunity to discuss and share your Christmas private party catering plans with us in detail.
Catering Companies Catering for Christmas Parties and Corporate functions
At Paella Fella, we are the major caterer for all sizes of Christmas parties and corporate Christmas events and able to provide delicious paella, incredible tapas, desserts and drinks for up to 300+ people. The more the merrier!
Paella & Tapas Christmas Catering Companies
If you are looking for a professional, but fun, Paella and Tapas catering service for your Christmas party, a service that offers something that's a little bit different, then do contact Paella Fella today!
We would love to work with you to create the best possible Christmas party or corporate Christmas event for you. Bespoke, high end, stress-free Paella & Tapas catering with more than a touch of Spanish flair! Feliz Navidad!
---
Contact the team today to discuss your Christmas Party Catering:
Popular searches: spanish food, spanish takeaway, paella delivery, tapas delivery, Christmas Party Caterers, Paella Christmas Party Catering, Mobile Paella at Christmas, Tapas Christmas Catering, Paella Christmas Catering, Christmas Party Food Catering, Sussex, Surrey, Essex, Kent, Hampshire, London, Corporate Christmas Food Catering, Christmas Wedding Catering, Christmas Catering Companies, Christmas Catering Companies, Christmas Party Catering