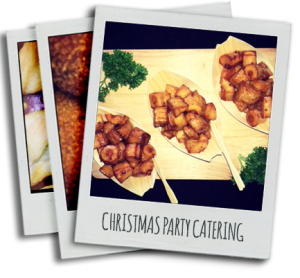 Paella Fella is the pick of the premier catering companies for your Christmas party catering.
Whether you are throwing a pre-Christmas bash for your friends and want to take the hassle out of the preparation work, or you are organising your company's Christmas party and want to put on a memorable celebration that's a little bit different, check out the amazing Paella Fella range of Christmas party packages.
Our Christmas packages are something to behold, blending Paella Fella's depth of experience and knowledge of Spanish cuisine with a festive twist on traditional Christmas fayre.
---
Contact the team today to discuss your Christmas Party Catering:
01342 777846
request a call back
Our Christmas party catering packages
From our premium "Santa" package, which includes our Christmas paella, a delicious combination of Chicken, Turkey and Duck thigh fillet made with a sage stock and sage and onion Christmas dumplings, our incredible Christmas themed tapas selections, artisan breads and delicious desserts including Gingerbread Empanadas with a Spiced Pear filling & Chocolate dip, through to our "Elves" package, which provides all the essentials for a Christmas party, you can choose the food, drink and catering style to fit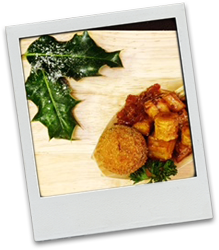 your Christmas celebration.
Let us take the stress out of your Christmas party catering and give your guests or colleagues a Christmas party that excels.
Paella Fella is an established professional party catering company, bringing authentic Spanish food to all kinds of events from landmark birthday parties and weddings to corporate functions.
When making your selection from companies catering for Christmas parties, make sure Paella Fella is top of your list.
Hi it was a huge success and our guests were very complimentary about the food. The team were professional and friendly and cleared up beautifully. I would definitely recommend your service and use you guys another time.

Jan Grace 50th Birthday Party - London, 150 guests - 9th July 2016

The guys were fantastic and everything went seamlessly and the paella was just amazing - both the chicken and chorizo and the vegan one!  My husband has guarded the remaining vegan paella - which is hidden at the back of the fridge.   The party went on until the small hours finishing with the stragglers demolishing the left over paella!  It was a big hit! Kind Regards, Liz

Please could you pass on my thanks to your team who catered for our party on Saturday. They did an amazing job! The paellas were delicious, as were all the canapés and everything was cooked and served with a smile. All our guests were extremely impressed, and your team made the party a great success. A big thank you to all 3 of them.

Jill Ward - Husband's 50th Birthday - 65 Guests - Goudhurst 18th June 2016

The party was a great success, thank you - Karl had absolutely no idea until the gigantic tepee arrived in his garden during the afternoon of the 30th!! Everyone was full of praise for the delicious paella that was served during the evening.  There were left overs (which I was secretly hoping for!! and now lurk in my freezer waiting for a day to think of sunshine and holidays) which were distributed amongst the guests at the end of the evening. I cannot thank you enough for alleviating the stress of organising food for a large number of guests and would not hesitate to use you again in the future. Thank you so much for making it so easy for us to pull the surprise off.

Sue Laws KM Elite - staff's Surprise 40th birthday, 170 guests - Billingshurst - 30th September 2016

Thank you and your lovely team for the excellent meal Paella Fella provided for the Planets Charity at the Newhaven Fort. The Paella team was so lovely and friendly and really hospitable. The food was amazing and the sangria's were excellent, we all had such a great start to our challenge.

We will be sending out thank you cards and updating all the people that helped with the event over the next week but we raised £60,000 and got all the cyclists safely to Paris within the time frame of 24 hours.

Planets Charity Bike Ride ,Elisabeth Marouzet - 100 cyclists - Newhaven Port - 24th June 2016

The party was great fun and the food was a huge success, I had lots of comments on how delicious it was. Debbie who came and worked on the night could not have been nicer. It was the first time I ve used this sort of catering for a party and would definitely do it again. Many thanks for all your help.

Alison Speakman, Essex - Summer Party 50 guests - 27th August 2016
Christmas party catering companies – Paella Fella's Tantalising Pre – Christmas Party Taster
We offer taster sessions where you can sample our fantastic paella, superb tapas range and delightful desserts so you can decide upon your Christmas party menu with total confidence. Our taster sessions start at £60 depending on your menu selection and is the perfect opportunity to discuss and share your Christmas private party catering plans with us in detail.
Catering Companies Catering for Christmas Parties and Corporate functions
At Paella Fella, we are the major caterer for all sizes of Christmas parties and corporate Christmas events and able to provide delicious paella, incredible tapas, desserts and drinks for up to 300+ people. The more the merrier!
Paella & Tapas Christmas Catering Companies
If you are looking for a professional, but fun, Paella and Tapas catering service for your Christmas party, a service that offers something that's a little bit different, then do contact Paella Fella today!
We would love to work with you to create the best possible Christmas party or corporate Christmas event for you. Bespoke, high end, stress-free Paella & Tapas catering with more than a touch of Spanish flair! Feliz Navidad!
---
Contact the team today to discuss your Christmas Party Catering:
01342 777846
Popular searches: Christmas Party Caterers, Paella Christmas Party Catering, Mobile Paella at Christmas, Tapas Christmas Catering, Paella Christmas Catering, Christmas Party Food Catering, Sussex, Surrey, Essex, Kent, Hampshire, London, Corporate Christmas Food Catering, Christmas Wedding Catering, Christmas Catering Companies, Christmas Catering Companies, Christmas Party Catering