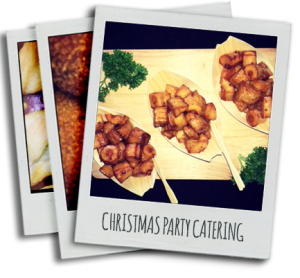 Paella Fella is the pick of the premier catering companies for your Christmas party catering.
Whether you are throwing a pre-Christmas bash for your friends and want to take the hassle out of the preparation work, or you are organising your company's Christmas party and want to put on a memorable celebration that's a little bit different, check out the amazing Paella Fella range of Christmas party packages.
Our Christmas packages are something to behold, blending Paella Fella's depth of experience and knowledge of Spanish cuisine with a festive twist on traditional Christmas fayre.
Our Christmas party catering packages
From our premium "Santa" package, which includes our Christmas paella, a delicious combination of Chicken, Turkey and Duck thigh fillet made with a sage stock and sage and onion Christmas dumplings, our incredible Christmas themed tapas selections, artisan breads and delicious desserts including Gingerbread Empanadas with a Spiced Pear filling & Chocolate dip, through to our "Elves" package, which provides all the essentials for a Christmas party, you can choose the food, drink and catering style to fit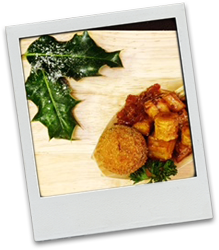 your Christmas celebration.
Let us take the stress out of your Christmas party catering and give your guests or colleagues a Christmas party that excels.
Paella Fella is an established professional party catering company, bringing authentic Spanish food to all kinds of events from landmark birthday parties and weddings to corporate functions.
When making your selection from companies catering for Christmas parties, make sure Paella Fella is top of your list.
Food was fantastic and really well received by everyone. I've passed your details onto a friend who wants to use you as well. Brownies were particularly tasty!   Pippa, in particular, was fantastic and super friendly and calm in the face of some rain!

Lisa Odendaal 40th Birthday – Surrey – 25th June 2016 – 70 guests

Once again I am happy to heap praise on Paella Fella for making our party. We had so many compliments about the food from our guests that I am sure it has helped to raise PF's profile and may lead to further business. The weather might not have been brilliant but the food certainly was. Of course we cannot praise dear Bertie and Anna enough. They both really looked after us and we wanted for nothing. We are looking forward to using Paella Fella again in 2019. Cross fingers! We look forward to dealing with you all again. Best Wishes, Shirley & Richard Barber

Shirley & Richard - Celebration Party, 30 guests - Wisborough Green - 27th October 2018

Paella Fella catered for an in-office event last night, food was excellent and service was outstanding! We will be using them again for future events! Thank you Olivia and Claire!

Laura Brown Goodstuff London - 13th July 2016 - 60 guests office party

The guys were fantastic and everything went seamlessly and the paella was just amazing - both the chicken and chorizo and the vegan one!  My husband has guarded the remaining vegan paella - which is hidden at the back of the fridge.   The party went on until the small hours finishing with the stragglers demolishing the left over paella!  It was a big hit! Kind Regards, Liz

Alex, Tom and Debbie were great and everyone loved the paella and puds.  They even brought the sunshine! Thanks to all.
Ann Knight, Housewarming - Richmond - 75 Guests (April 2017)

We heard nothing but praise from guests about the paella and when I got round to tasting the seafood (I had not realised Mum had so many friends), it was very good indeed. The team was indeed very self-sufficient, setting up, cooking and then clearing up. It is absolutely true that we did not have to do a thing - which was excellent because we didn't realise how busy we would be.

Fiona Holland - Celebration of Life - 100 guests - Otford - 19th October 2016
Christmas party catering companies – Paella Fella's Tantalising Pre – Christmas Party Taster
We offer taster sessions where you can sample our fantastic paella, superb tapas range and delightful desserts so you can decide upon your Christmas party menu with total confidence. Our taster sessions start at £60 depending on your menu selection and is the perfect opportunity to discuss and share your Christmas private party catering plans with us in detail.
Catering Companies Catering for Christmas Parties and Corporate functions
At Paella Fella, we are the major caterer for all sizes of Christmas parties and corporate Christmas events and able to provide delicious paella, incredible tapas, desserts and drinks for up to 300+ people. The more the merrier!
Paella & Tapas Christmas Catering Companies
If you are looking for a professional, but fun, Paella and Tapas catering service for your Christmas party, a service that offers something that's a little bit different, then do contact Paella Fella today!
We would love to work with you to create the best possible Christmas party or corporate Christmas event for you. Bespoke, high end, stress-free Paella & Tapas catering with more than a touch of Spanish flair! Feliz Navidad!
---
Contact the team today to discuss your Christmas Party Catering:
Popular searches: spanish food, spanish takeaway, paella delivery, tapas delivery, Christmas Party Caterers, Paella Christmas Party Catering, Mobile Paella at Christmas, Tapas Christmas Catering, Paella Christmas Catering, Christmas Party Food Catering, Sussex, Surrey, Essex, Kent, Hampshire, London, Corporate Christmas Food Catering, Christmas Wedding Catering, Christmas Catering Companies, Christmas Catering Companies, Christmas Party Catering