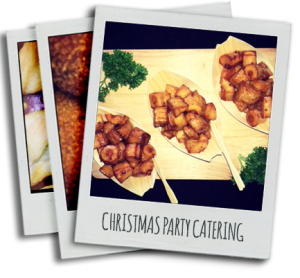 Paella Fella is the pick of the premier catering companies for your Christmas party catering.
Whether you are throwing a pre-Christmas bash for your friends and want to take the hassle out of the preparation work, or you are organising your company's Christmas party and want to put on a memorable celebration that's a little bit different, check out the amazing Paella Fella range of Christmas party packages.
Our Christmas packages are something to behold, blending Paella Fella's depth of experience and knowledge of Spanish cuisine with a festive twist on traditional Christmas fayre.
Our Christmas party catering packages
From our premium "Santa" package, which includes our Christmas paella, a delicious combination of Chicken, Turkey and Duck thigh fillet made with a sage stock and sage and onion Christmas dumplings, our incredible Christmas themed tapas selections, artisan breads and delicious desserts including Gingerbread Empanadas with a Spiced Pear filling & Chocolate dip, through to our "Elves" package, which provides all the essentials for a Christmas party, you can choose the food, drink and catering style to fit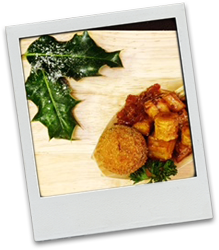 your Christmas celebration.
Let us take the stress out of your Christmas party catering and give your guests or colleagues a Christmas party that excels.
Paella Fella is an established professional party catering company, bringing authentic Spanish food to all kinds of events from landmark birthday parties and weddings to corporate functions.
When making your selection from companies catering for Christmas parties, make sure Paella Fella is top of your list.
Just wanted to drop you a line to say how much we loved everything about your Paella service. • Prompt

• Friendly • Efficient • Canapes and Paella was Delicious with generous portions as promised. • Left the place spotless.

Everyone was gushing about Paella Fella. So thank you very much!! Donna

Phil's party last Saturday was a great success.  Please thank your two brilliant, friendly, professional chefs who cooked us a wonderful meal and looked after us so well. They were amazing. I have attached a few photos from the evening.

Jenny & Phil Taylor - 50 guests, Hove - 13th August 2016

Your team were fantastic and we had a ball though I am not sure we are very popular in the village after partying until 4am!! The paella was delicious, the staff were charming and our guests loved it so please extend a huge thank you on our behalf.

Alicia Drummond - Daughter's 21st - 22 June 2019 - East Sussex - 80 guests

I would like to thank the team for an amazing job yesterday.  They were friendly, efficient and very accommodating to our last minute changes regarding the chorizo.  I have received so many compliments from our staff .  I have not heard one negative comment, so thank you. Also please send my thanks to Olivia who was also very helpful with my initial query and booking process. We hold various events for our residents and staff on numerous occasions so I am sure we will be in touch again.

Glyn Drew, People Partner Phoenix Community Housing - Bromley - 200 guests - staff party - 11th October 2016

Thank you and your lovely team for the excellent meal Paella Fella provided for the Planets Charity at the Newhaven Fort. The Paella team was so lovely and friendly and really hospitable. The food was amazing and the sangria's were excellent, we all had such a great start to our challenge.

We will be sending out thank you cards and updating all the people that helped with the event over the next week but we raised £60,000 and got all the cyclists safely to Paris within the time frame of 24 hours.

Planets Charity Bike Ride ,Elisabeth Marouzet - 100 cyclists - Newhaven Port - 24th June 2016

Please pass on my thanks to the whole team for a first class event. You all couldn't have been nicer, and the food was delicious! I would highly recommend you for service, attention to detail, thoughtfulness and taste!  Million thanks

Sarah Hills - Family celebrations - 160 Guests - Hampshire - 16th July 2016
Christmas party catering companies – Paella Fella's Tantalising Pre – Christmas Party Taster
We offer taster sessions where you can sample our fantastic paella, superb tapas range and delightful desserts so you can decide upon your Christmas party menu with total confidence. Our taster sessions start at £60 depending on your menu selection and is the perfect opportunity to discuss and share your Christmas private party catering plans with us in detail.
Catering Companies Catering for Christmas Parties and Corporate functions
At Paella Fella, we are the major caterer for all sizes of Christmas parties and corporate Christmas events and able to provide delicious paella, incredible tapas, desserts and drinks for up to 300+ people. The more the merrier!
Paella & Tapas Christmas Catering Companies
If you are looking for a professional, but fun, Paella and Tapas catering service for your Christmas party, a service that offers something that's a little bit different, then do contact Paella Fella today!
We would love to work with you to create the best possible Christmas party or corporate Christmas event for you. Bespoke, high end, stress-free Paella & Tapas catering with more than a touch of Spanish flair! Feliz Navidad!
---
Contact the team today to discuss your Christmas Party Catering:
Popular searches: spanish food, spanish takeaway, paella delivery, tapas delivery, Christmas Party Caterers, Paella Christmas Party Catering, Mobile Paella at Christmas, Tapas Christmas Catering, Paella Christmas Catering, Christmas Party Food Catering, Sussex, Surrey, Essex, Kent, Hampshire, London, Corporate Christmas Food Catering, Christmas Wedding Catering, Christmas Catering Companies, Christmas Catering Companies, Christmas Party Catering