Brand New Paella & Tapas Menu!


Everything we create is made from scratch using only the
Finest Ingredients
We use
Authentic
paella rice, chorizo and paella spices sourced from spain.

All our meat is supplied with
Full traceability
and red tractor approval
We cater for
Specific dietary requirements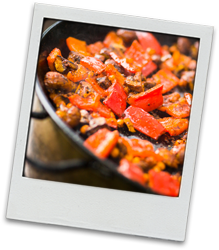 Our 2017 menu
We use only authentic ingredients from Spain. All our food is created from scratch by us for you, with only a few exceptions. Everything we create can be made gluten free, as standard, if you like.
Please let us know if you have any special dietary requirements or allergies – we shall be pleased to accommodate you. Food choices in the menu are marked where applicable as (v) for vegetarian, (vg) for vegan and (gr) for gluten free.
Our event teams have a full list of allergens available at all our events.

All our paellas are generously laden with only the best quality meats, seafood & vegetables sourced as locally as possible. All are made with Red Peppers, Green Beans and Paella rice
Pollo & Chorizo
Rich, smoky and delicious – made with Chicken Thigh fillet, Smoky Chorizo Sausage and Rosemary. May be made with chicken on the bone and Spicy Chorizo, if you wish
Marisco
Classic Seafood paella made with King or Tiger Prawn, Squid Rings, Cod Fillet & Mussels
 Verdura (vg)
Our delicious vegetable paella made with Asparagus, Chestnut Mushrooms, Red Peppers, Chickpeas and Green Beans with a stock seasoned with Rosemary as standard.
Or add your choice of seasonal vegetables for example,
Courgette, Aubergine, Squash, Artichoke – you tell us…
Mixte Paella
Fabulous mix of Chicken Thigh Fillet, King or Tiger Prawn, Squid Rings, Cod Fillet & Mussels – a sumptuous feast for any party!
Valencian -The True Original Paella!
 I've made this at the International Paella Competition in Valencia in Spain and believe me, they are very particular!
Made with chicken, rabbit, three types of bean – flat green (ferradura) beans, butter (lima/garrofon) beans and white kidney (tavella) beans – and snails (optional), seasoned with a sprig of rosemary.
It is best cooked in the traditional way on an open wood fire that gives it a rich smoky texture and taste. Of course, we can cook it on gas for you!
Arroz Negra (Black Rice)
Deliciously rich seafood paella made with tiger or king prawns, calamari, red pepper, onions and squid ink to give the rice a characteristic black colour and a superb flavour
Marisco Deluxe
Sumptuous Seafood paella made to your choice of:- Monk fish, Lobster, Crevettes, Scallops, Crab claw, Clams, Tiger or King Prawns, Squid & Mussels, Cod or Haddock fillet – or anything special you may have in mind –
depending on your budget and seasonal availability
Pollo & Gamba
Our twist on the Mixte made only with Chicken Thigh Fillet, Smoky Chorizo, King or Tiger Prawn
Lamb or Pork
Paella made with filleted leg of lamb or pork belly or rib and a selection of chunky vegetables – Red Pepper, Courgette, Chickpeas and Green Beans
Fideua – Great for kids!
A twist on original paella – it is paella made with special fideua macaroni pasta instead of rice. A great choice for kids – we make it simply with chorizo sausage or seafood, tomatoes and peppers.
Think of it like a pizza but made with pasta and you can have a whole host of toppings, meatballs, ham, mushrooms…

Los Canapé Tapas/Starters
Our Tapas may be served – as Canapé Tapas – typically served walking waited or, as Table Tapas – served on the table on platters or with traditional tapas bowls or both!
Some can just be eaten with your fingers whereas some may require a plate & cutlery – whichever way suits the taste, style and mood of your event.
Spanish Marinated Olives & Bread
A choice of bread and our own Marinated Green & Black Olives
Canapé Tapas
Perfect finger food – served walking waited individually or on mixed platters. Typically, each piece is two bites and we will help you on getting the balance right in terms of choice, quantity and taste.
Croquetas
Crunchy on the outside, light and fluffy on the inside – a roux based, bread crumbed dream!
Served with their own mayonnaise to compliment (or plain garlic mayo if you choose)
Chicken & Herb – Black Pepper & Garlic Mayo
Mushroom – Blue Cheese Mayo (v)
Chunky Ham – Tarragon Mayo
Pinchos Kebabs (gf)
Delicious marinated mini-kebabs, choose from…
Chicken or Lamb in a Moorish Marinade (gf)
Little Pork Kebabs in a BBQ Inspired rub (gf)
Tortilla Cubitos (gf)
Bite size cubes of Spanish Omelette – each piece is two bites!
~ Chorizo Vela & Red Pepper
~ Smoked Haddock & Spring Onion
~ Sweet Potato & Sunblushed tomatoes (v)
Lamb Cigars
Succulent minced lamb in honey, mustard & rosemary marinade in a mini filo cigar – Delish!
Buñuelos de Bacalao
Our own Salt Cod Fritter in a crispy polenta coating – served with a zesty lime mayo – simply scrumptious!
Bastonetas
Lightly Fried Cod in spicy curried batter with our very own Valencianaise
Calamari Curls
Calamari Curls served with our Valencianaise
Bolitas de Arroz (gf) (vg)
Mini rice balls of Sweet Roasted Butternut Squash & Sage served with a creamy smoked tomato dip
Pea & Leek Empanadas (v)
A Crispy, savoury pastry parcels with a garden fresh pea & leek filling
Picatostes – little toasted breads topped with
Creamy Chilli Goats Cheese Whip with crispy onions (v)
A fresh chunky Romesco inspired salsa topping (vg)
A chestnut mushroom pate with chopped olives (v)
Patatas Bravas in Cones (v) (gf)
Crispy crunchy potato cubes – served with a classic spicy mayonnaise
Asparagus Wrapped in Serrano Ham (gf)
Freshly cooked on site – simple, tasty & delicious…
Gazpacho – (gf) (vg)
Shots of refreshing Chilled Tomato Soup with a hint of heat – Zingy!
Served with a skewered olive
Table Tapas
Our Table Tapas are served on the table as centre platters or with traditional tapas bowls.
Albondigas
Spanish Meatballs made with beef and pork served in a Rich Tomato Sauce (gf)
Champiñones Cremosos de Ajo
Sautéed Mushrooms in a Creamy Garlic Sauce, topped with fresh flat leaf parsley (v) (gf)
Patatas Bravas (v) (gf)
Crunchy potato cubes – served with a classic spicy mayonnaise
Pollo Con Ajo Alitas – Smokey Crispy Chicken Wings with Garlic
Twice cooked chicken wings made with a smoked salt & spicy dressing with a splash of sherry vinegar (gf)
Fresh Garden Green Salad
Ribbons of Courgette, Asparagus Spears, Edamame Beans in a coriander & lemon dressing (vg) (gf)
Chorizo en Vino Tinto
Sautéed Chorizo & Onions slow cooked in Red Wine (gf)
Calamari Curls
Calamari Curls served with our very own Valencianaise
Lomo de Cerdo – BBQ Pork Loin (gf)
Strips of tender pork loin with sautéed onions in a rich BBQ tomato sauce
King Prawn Esgarret (gf)
King Prawns cooked in our pil pil marinate complimented with chargrilled peppers & spring onion
Whitebait
served simply with a garlic mayonnaise
Plato de Carne (gf)
Selection of cured Spanish meats to include Serrano and Iberico Hams, Lomo & Chorizo Slices
Other meats available on request.
Plato de Queso (v)
Manchego Cheese platter with Quince Jelly
Other Cheeses such as Cabrales, Canarejel, Tetilla and Garrotxa for example – available on request
Pimenton del Padron (gf) (v)
Padron Peppers – small green peppers, flash fried in olive oil sprinkled with rock salt, bitter sweet in flavour, and 1 in 10 is spicy hot!

Like our Tapas, our Desserts may also be served in a variety of ways – at the table on platters or buffet style as a Trio of Canapé desserts.
All the recipes are our own and also, like the tapas each item is two to three mouthfuls. Again, we are happy to help you get the mix right for your event.
Deluxe Chocolate Brownies
Plain, Sour Cherry or Pecan – nearly everyone loves a brownie
Deluxe Platinum Blondies
It's a brownie only they are made with White Chocolate and Raspberry – sweet and zingy – wow!
Lemon Possets with a Blueberry burst (gf)
Served with a shortbread coin – smooth, creamy and tangy all in one
Seville Jaffa Pots
A luxurious chocolate mousse with a Seville orange jelly and a light Jaffa cake layer
Salted Caramel Cheesecake
With a buttery Ginger Nut base topped with crunchy caramel drops
Eton Mess (gf)
Whipped sweet cream with a strawberry coulis topped with crushed meringues
Mini Cinna-Bun Pot
Sticky Caramel apple with a vanilla cream and a glazed mini cinnamon bun
San Miguel Beer Jellies
with a sweet milk foam (gf)
Sour Rhubarb & Lime Mojito Jelly (gf)
With fresh mint – refreshing!
Prosecco & Peach Bellini Jellies (gf)
With real peach cubes and some added sparkle.

A full drinks menu is coming soon, but for now we offer:
Alcoholic Sangrias
Traditional Red Sangria made with red wine, fruit juice and fresh oranges, pears & apples
White Cava Sangria – deliciously light and refreshing, made with oranges & lemons
Non-Alcoholic Sangria
A delicious mix of fresh fruit juices and freshly cut fruit, the perfect guilt-free drink to accompany your paella and tapas menu
Full Bar Service
Our Bar Service is simple – you provide the drink and we will provide the staff to serve it, whether it is a bar or waited service you want. Your selection of chilled beverages with waiting service and top ups for the duration of your event
The menu is by no means an exhaustive list, just an idea of what we can do to whet your appetite. If you have a favourite dish please let us know.
If you have any questions or you want a bespoke menu, please call us on 01342 777846 or contact us on enquire@paellafella.co.uk.