Taunting Tapas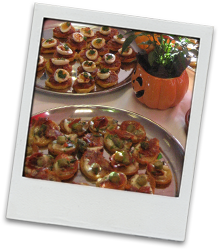 Petrified Pinchos Marinated Mini Pinchos Kebabs – Chicken or Lamb
Witches Fingers Chilling Chorizo Sausages wrapped in flaky pastry served with a Witches Cauldron dip
Creepy Croquetas Crunchy on the outside, light and fluffy on the inside. A choice of Ham or Mushroom served with a Blood Dip.
Phantom Peppers Stuffed Padrons Peppers wrapped in a flaky pastry
Bug Bites Picatostes toasted mini breads topped with Black Olive Bugs on a Devils Goat's Cheese Whip
VamPaellas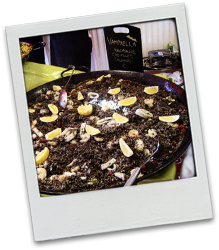 Vampaella Ghoulish Black Rice Paella made with Tiger or King Prawns & Squid – served with a Garlic Maggot Mayo
Phantasmal Paella Chicken paella made with Smoked Spanish Chorizo Sausage red peppers, green beans and paella rice
Blood Verdura Our Fiendish vegetable paella made with shocking Red Beetroot, red peppers, chickpeas and pumpkin
Salads
Mediterranean Salad Tomato, Cucumber & Black Olives with our homemade Mediterranean dressing.
Potion Pots & Puddings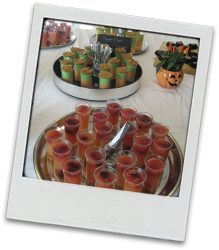 Slimy Swamp Shots Little shots of Slime Lime Posset with a Ginger Crumble topping
Vampire Kiss Sharp but sweet Raspberry & Blood Orange Jelly with Red Berries
Graveyard Pots Smashed Brownie Cream and Brownie Crumble with a Tombstone Biscuit
---
Contact the team today to discuss your Halloween Party Catering:
All went really well on Saturday, the paella was lovely.   We've had lots of comments about the food - all very good!  I think it was so good, there were lots of takers for second helps and I don't think there was anything left over!    Richard and I were so looking forward to cold paella on Sunday, but it was so good it all got eaten! The girls were amazing, happy, polite, friendly and professional - they just got on with it and were really organised and they came and went without any disruption - it all went very smoothly. We were very impressed and so were our guests. The whole evening was a great success, with a 70s theme, and everyone was in good spirits - there was a lot of dancing, a lot of empty bottles the next day and we've had some people say it was the best party they've ever been to!    Paella Fella should know they were part of the success of the evening, so thank you all very much. We will definitely recommend you and hope to ask you back another time for another party! Caroline & Richard Hutchinson,  Chichester 

"Paella Fella – the fella that ruined all other paella for me! I can no longer eat another paella without thinking "I wish this was Paella-Fella Paella!!" Paella Fella catered for my mother's party and they were, in a word, outstanding!

Jack Sydney Allen, Birthday

Our party was a great success. Thanks to your friendly, efficient and hard working team, the food was delicious, the drinks kept coming and our guests really enjoyed themselves. I wouldn't hesitate to use Paella Fella again, and a number of friends have taken your details. Thank you again

Jenny and Graham Devine - Housewarming & 60th Birthday - Farnham, 80 guests - 27th July 2019

Oh my ! The food was amazing - all my friends have said how fabulous it all was . The vegetarians, the pescatarians and the meat eaters were all catered for (plus the one who was allergic to rice!) Canapes were delicious  

We are hugely grateful as the food really made the party. 

Very impressed with the set up and how lovely the chefs were

We partied like it was 1999 given that the law changed today for the gatherings

Jo Prince - Wedding Celebration - Reigate - 12th September 2020

It was a great evening, thank you & the food and service was terrific

Tom & Sue McDonnell – 70th Birthday 55 guests , Oxted – 25th June 2016

A MASSIVE thank you to Olivia and her team on the night...they were all fantastic...honestly I think I have had every single person comment on how great the food was and how friendly, attentive and professional they all were. Sorry......I have forgotten the name of the other girl who helped but she was incredible...serving all the sangria and generally being there to do all the little tasks that go to make a great party..! Just awesome..!! We will certainly be using you guys again and will be recommending you to anyone that needs catering at a party. Thank you all behind the scenes for organizing everything as well...I know it's not easy to be that sorted but you all pulled it off without a hitch. Thanks again

Phil and Sal Murton, West Sussex
Popular searches: spanish food, spanish takeaway, paella delivery, tapas delivery, Halloween Party Caterers, Paella Halloween Party Catering, Paella at Halloween, Tapas Halloween Catering, Paella Halloween Catering, Halloween Party Food Catering, Corporate Halloween Catering, Halloween Wedding Catering, Halloween Catering Companies, Halloween Catering