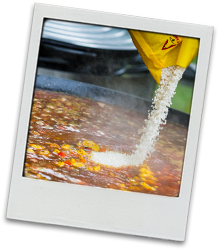 You've slaved over Christmas and now it's time to see in the New Year with a bang!
Let us help you get the party started with a simply sumptuous Tapas and Paella Buffet.
Perfect easy nibble food to fuel up on seeing in the New Year and partying on in to the small hours….
Keep it simple with a buffet of tapas and paellas and desserts to give your guests something graze on whilst waiting for the clock to chime in 2019.
Take a look through the menu below and you will see there is something to satisfy everyone's taste.
There are some great choices to be made with the Canapé Tapas, Paellas and Desserts that will really make your New Year swing!
We suggest that you choose maybe three to four tapas, with one or two choices of paella. Our desserts can come as a trio of mini (canapé style) desserts for each person and you have a choice of five options.
To make it even easier – we have suggested a typical crowd pleaser menu package to take away the guess work for you.
Combinations and Decisions!?! –Need some help – please do call us if you want any advice or help at all…
Canapé Tapas
Croquetas
Crunchy on the outside, light and fluffy on the inside – a roux based, bread crumbed dream!
Served with their own mayonnaise to compliment (or plain garlic mayo if you choose)
Mushroom – Blue Cheese Mayo (v)
Chunky Ham – Tarragon Mayo
Iberian Nuggets with Lemon, Sriracha and Chive Mayo
Slow roasted pork shoulder nuggets with a tangy, spicy, garlic and chive dip!
Slip Sliding Away – Sliders…
Iberian Sliders
Tender succulent and tasty mini pork and beef burgers made Iberian in a mini home made bap with Mustard, Cornichon and Onion Mayo – each one a little Wow!
Bastoneta Cod Sliders
Our Crispy Cod Bastonetas served in a mini home- made bun with a curry mayonnaise – can be served topless
Asparagus Wrapped in Serrano Ham (gf)
Freshly cooked on site – simple, tasty & delicious…
New Years Paella's
Pollo & Chorizo
Paella made with Chicken & Smokey Chorizo Sausage
Luxury Marisco
Sumptuous seafood paella with King Prawns, smoked haddock fillet & Squid.
Verdura
Our delicious vegetable paella made with red peppers, chickpeas and green beans and asparagus & artichoke hearts
Salads
Mediterranean Salad Tomato, Cucumber & Black Olives with Spanish olive oil
Puddings
Rocky Fella
Deluxe Dark & Milk Chocolate Cubes filled with a mixture of homemade delights

Bellini Jelly
Prosecco Jelly with peach cubes with an edible glitter topping
Lemon Possets
Creamy Lemon Cream with a blueberry burst & shortbread coin
As standard, our service is premium quality hassle free catering – we do all the hard work so you can relax and enjoy your party.
All Options Include:
A choice of freshly prepared Paellas – cooked and served on site (or delivered!)
Fully laden paellas made with freshly prepared whole ingredients – including authentic paella rice and paella seasoning
Served in palm leaf bowls with metal or wooden forks
All service staff, kitchen set up, cooking, serving and clearing and travel costs
Removal and disposal of all related waste
---
Contact the team today to discuss your requirements: