Recipe of the Week: Chicken, Chorizo Gnocchi Bake
This week our recipe is a delicious Spanish style gnocchi bake, perfect while there is still a chill in the air!
300g chicken breast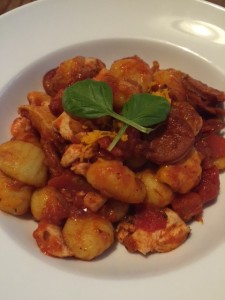 3 chorizo sausages
1 small red onion
1 small white onion
2 cloves of garlic
1 tin of chopped tomatoes
400g fresh gnocchi
fresh basil leaves
red Leicester (or your favourite cheese, the quantity is your choice!)
salt +pepper
dried mixed herbs
Method
Dice the chicken breast, slice the chorizo sausages into 1cm thick rounds.
Fry off the chicken until golden in a large saucepan and then add the chorizo sausage.
Finely dice the onions and add to the pan.
Crush the garlic and stir until all combined.
Add a generous amount of dried mixed herbs, and then add the chopped tomatoes.
Leave to simmer for a few minutes.
Whilst the chicken mix is cooking, boil the gnocchi in slightly salted water for 2-3 minutes, taste to check it is cooked through.
Drain thoroughly and add to the saucepan.
Mix until combined, and then pour into a suitable dish for the oven.
Sprinkle with a good helping of cheese, add some fresh basil leaves and a sprinkling of salt and black pepper.
Place in the oven at 180c for 5 minutes or until the cheese is all melted!
ENJOY!!